Recent changes in Visual studio installer is breaking SSDT installation with this error;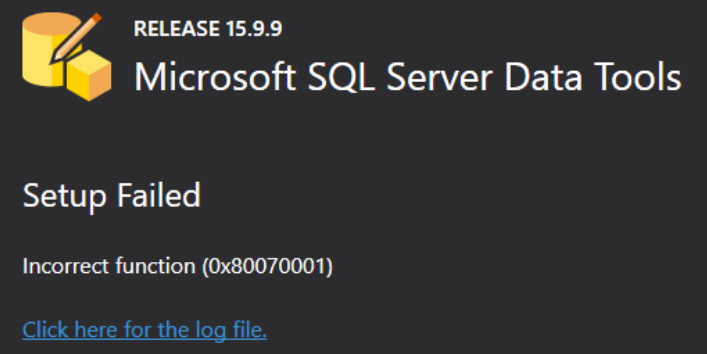 We need to do an offline installation as outlined here;
https://docs.microsoft.com/en-us/sql/ssdt/download-sql-server-data-tools-ssdt?view=sql-server-2017#ssdt-for-vs-2017-standalone-installer&WT.mc_id=DP-MVP-5003166
Download SSDT from here;
https://go.microsoft.com/fwlink/?linkid=2169967&WT.mc_id=DP-MVP-5003166
Download vs_sql.exe file from here;
https://aka.ms/vs/15/release/vs_sql.exe
Open DOS prompt as administrator and navigate to downloaded files
MS DOS
vs_sql.exe –layout C:\Business\Trash\SSDT\OfflineFiles –lang en-us
If there is error in download, type the command below to fix the error: (only do this if you also had download errors) ;

vs_SQL.exe –layout C:\SSDT2017 –fix
Navigate to the directory where you downloaded the layout files (in my case, C:\Business\Trash\SSDT\OfflineFiles)
vs_setup.exe –NoWeb
There's not much to change here, just click on the Install button (or maybe change the installation path):
Once installation is done, we will be able to see a minimal version of VS2017.
Now we can install SQL Server Data Tools 2017 (SSDT) ​​through the normal installer (SSDT-Setup-ENU.exe), remembering to check the SSIS, SSRS and SSAS options:
SSDT-Setup-ENU
Once the installatin is successful, make sure the SQL Server project templates (Database Project / SQLCLR), Analysis Services (SSAS), Integration Services (SSIS) and Reporting Services (SSRS) are working normally.
You are done.
Reference
https://en.dirceuresende.com/blog/como-corrigir-erro-na-instalacao-do-sql-server-data-tools-ssdt-2017-setup-failed-incorrect-function-0x80070001/


Add to favorites